新计量法于1993年11月实施,其中计量标准供给制度得到设定,与新计量法同时开始实施。
这一法规旨在促进确立高精度的计量标准,目的在于根据产业界的需要,建立提供符合需求的计量标准。
同时经过对认定业者和提供的基量与国家计量标准的接轨,使对外也能够成为证明。
The New Measurement Law was enacted in November, 1993. A method for supplying standards was
founded (the traceability system) and this was newly enforced together with the new law.
This traceability system is a system made to enable timely supply of measurement standards fit to
the needs of different manufacturing industries by establishing highly accurate measurement
standards with which the accredited bodies can perform calibrations and supply standards that can be
traced back to the national standards.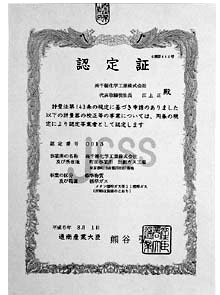 这个制度具有 3 个支柱 :
国家计量标准 ( 一次标准 ) 由经济产业大臣作为特定标准器或特定标准物指定。
经济产业大臣根据法令指定一次标准的供给实施机构 , 使标准供给义务化。
作为向产业界的计量标准供给机构 , 经济产业大臣认定业者 , 得到认定的业者 , 可以对广义用户进行计量器的校正和提供标准物质的数值 , 同时可以发行本制度的标识 ( 标章 ) 和带有 JCSS 标识的校正证书。
This system has 3 parts:
The Minister of Economy, Trade & Industry (METI) appoints the National Measurement Standards(Primary Standards)to be the Designated Standard Equipment and Material.
METI appoints the designated government bodies to supply the Primary Standards in accordance to the law.
Chairman of The National Institute of Technology and Evaluation (NITE) appoints the accredited calibration bodies as suppliers of standards to the industries for them to perform measurement equipment calibration and provide material standards with accurate values to the general public and issue calibration certificates with JCSS logos as symbols of this system.